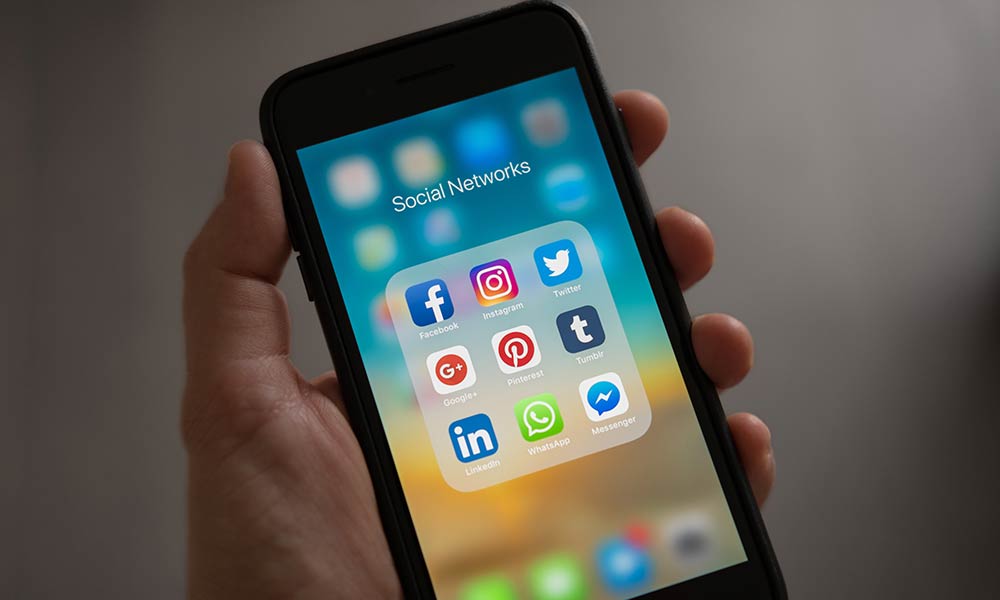 According to Statistica, Pinterest is the 16th largest social networking site in the world bosting ~300m active users. Though often grouped as a social network, it is quite different than its counterparts. According to Wikipedia, Pinterest is "designed to enable saving and discovery of information... using images and, on a smaller scale, GIFs and videos." Its users - pinners- curate content via Pinterest pins (images / gifs, videos) onto different boards for later use. Those boards can be secret (private) or public. Pinners use Pinterest to plan for action as opposed to the traditional sharing to engage other users via comments and likes. Indeed, it is not primarily about discussion or exchange of information. Pinterest CEO Ben Silberman, at a recent Brainstorm Tech Conference, described the company as a "catalogue of ideas" designed to inspire users to "go out and do that thing". It combines the search functionality of a traditional search engine with the visual centricity of Instagram and snap.
The search and discovery aspects of Pinterest's usage make it a compelling fit for eCommerce brands and Shopify stores to market their products and generate sales. According to Pinterest, the average Pinner spends ~14 minutes per visit on the site. Kleiner Perkins' Internet Trends Report found that "55% of Pinners say they use the platform to shop for and find products, more than 4X the rate of other digital platforms." The best time to market people is when they are planning purchases or activities. Since Pinners go to Pinterest to discover new product and plan activities, marketing to them there makes all the sense in the world. Analytic Partners found that "Pinterest outperformed the overall marketing average by 45% (digital and offline)…[such that] for every $100 spent by a brand on Pinterest, they got $60 more in profit than form other measured channels." This makes Pinterest a compelling channel for marketers. However, the results are overly indexed towards brands that align with Pinterest's demographic.
Unlike other social networks, Pinterest's demographic is particularly skewed towards millennial affluent women. Pinterest has been growing its male population by ~35% a year for the past two years or so, still, 70% of its users are female and account for 93% of all total pins. Moreover, 67% of all Pinners are under 40 years old. Sproutsocial found that Pinterest has the highest density of adult interest users making more than $75k a year - roughly 35%. Pinterest mentioned that "Pinners are just as likely to purchase as users from other social channels, but spend 50% more on average compared to other social channels. They also spend 20% more than users referred from non-social channels, including search." All this is to say that if you are marketing to women under 40 with disposable income, it would behoove you to make Pinterest an integral part of your marketing mix. Not all industries perform equally on Pinterest. MillardBrown Digital found that 5 industries performed best on Pinterest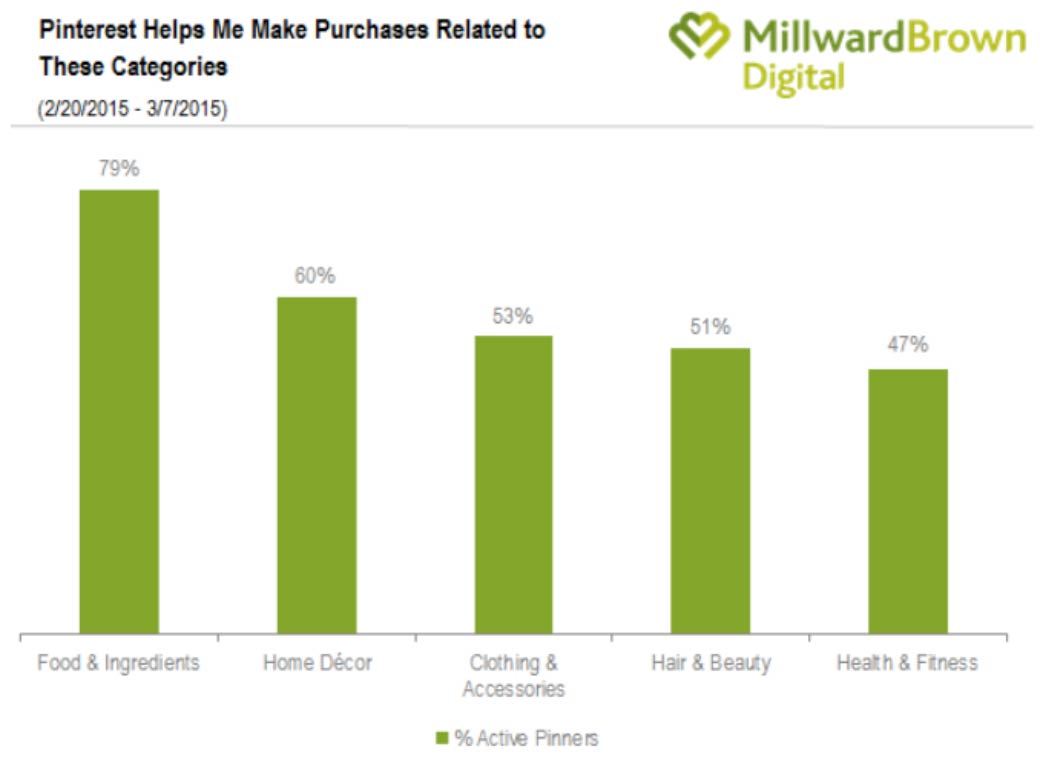 Getting started is straightforward. Pins can take the form can be organic or promoted (ad). If you want to create an ad, you simply have to follow the 7 steps below:
Create a Pinterest Business Account

Click on the Ads Section

Define your campaign objectives across 3 major parameters
Brand Awareness / Video Views
Ensure that your pins are seen by as many relevant people as possible in the form of either images or videos.
You pay per 1,000 impressions
Traffic
You pay per click
You pay per 1,000 impressions
App Install
Drive downloads of an app.
You pay per click.
Set up ad placement, create campaign, and set budget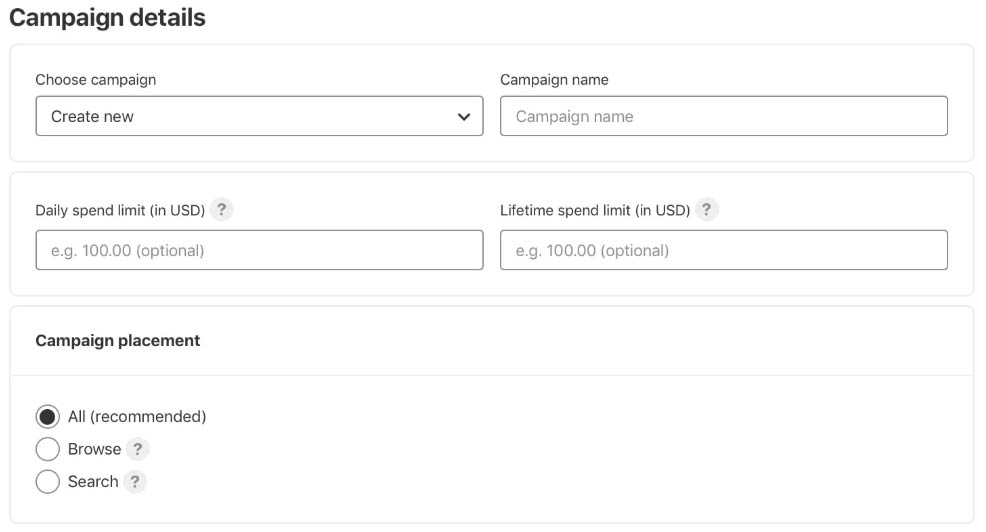 Curate target audience across 4 major buckets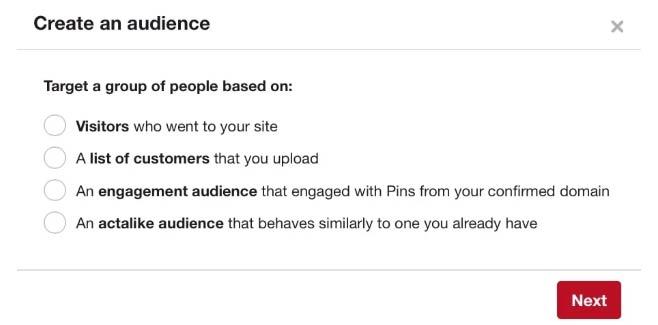 Select the Pin to be promoted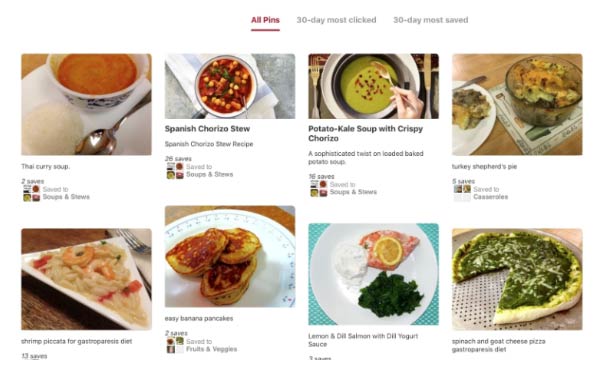 Measure and Optimize
Leverage Pinterest's ad manager to obtain performance data around:
# of Impressions
# of Saves
# of Clicks
Click-through rate (CTR)
Average CPC or CPM
Total ad spend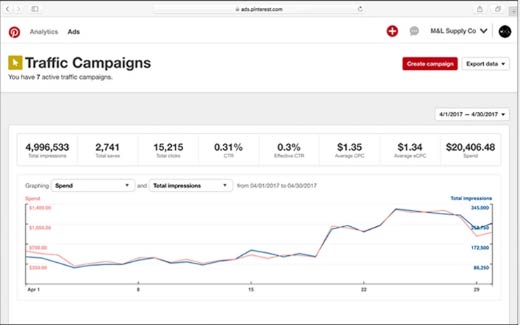 You can amplify your analytics by enabling the Conversion tag (directly from the Pinterest Shopify app) which affords you the ability to track the return on ad spend upon conversions. Seeing as Pinterest will likely be one of the many social networks you rely on, you can manage them individually or find it useful to use a tool like ThoughtMetric to get a consolidated view of the performance of your social media marketing efforts across all social networks without the need of complex pixels.
Ultimately, eCommerce brands and Shopify stores that fall broadly in the health, food, beauty, clothing / accessories, and fitness industries can find Pinterest to be a very useful marketing channel. It is quite intuitive to get started both for organic and promoted pins. Pinterest's self-reported ad performance metrics are off the chart compared to other social networks with a fairly high return on ad spend. Products and brands that target young affluent women should do well on the platform should trends continue. Lastly, just like any marketing channel, mastery will come from experimentation and consistent measurement